DICK'S CYL Shop Weekend II — In-store OR online March 11-14th!
In-store Savings
The second of our DICK'S Sporting Goods shop weekends is coming up this weekend at their Meadow Glenn Mall (3850 Mystic Valley Parkway) location in Medford. If you are in the market for new lacrosse equipment, accessories, or general athletic gear, use the coupon linked below to save 20% off your entire purchase ... 20% OFF EVERYTHING!!!
Cleats, mouth guards, tights, goggles, sticks, and just about anything else you might need for the season ... and beyond ... bathing suits, basketballs, fishing gear, weights, coolers, etc.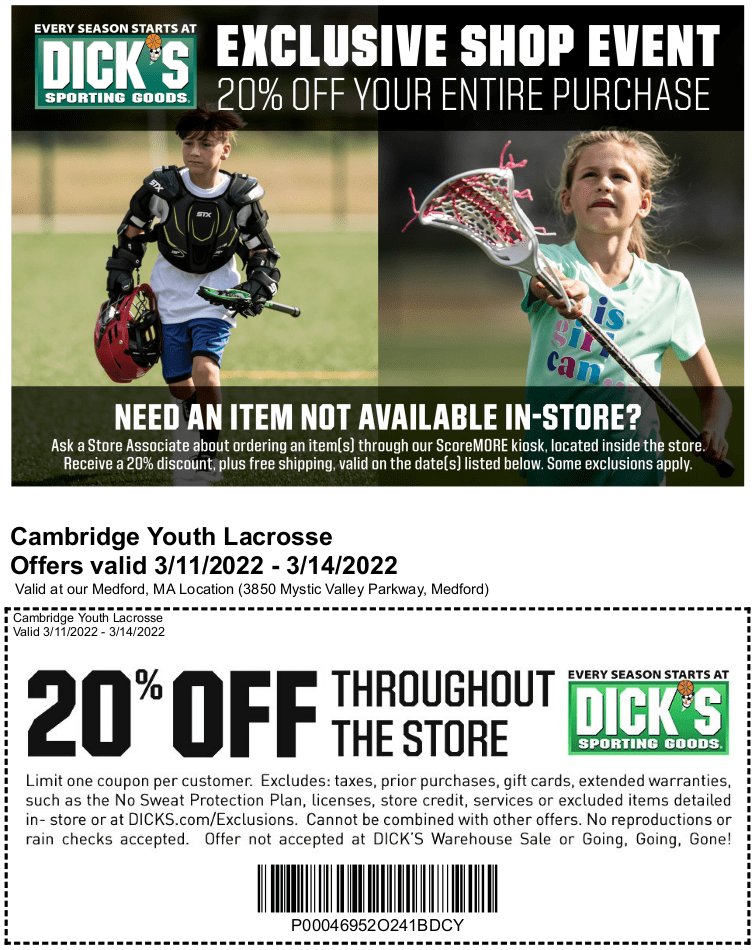 Online Savings
To shop online instead of in-store, use promo code: TMSPORTSMAR0311LAX at checkout.
PLEASE NOTE: Unlike the in-store offer above, this online promo code is limited to select lacrosse sports equipment and cleats only.
Year Long Savings!
Busy this weekend? You can actually save all year long on lacrosse items using the coupons found on DICK'S sponsor page on our
site
.
As always, feel free to reach out to us with questions or comments at: play @ cambridgeyouthlacrosse.org.
- Cambridge Youth Lacrosse