DICK'S Sporting Goods
DICK'S Sporting Goods believes that sports contribute to a better world and that people who take part in sports will learn essential life skills like leadership, discipline and integrity.
DICK'S Sporting Goods believes that people who take part in sports understand the importance of building healthy relationships and are better citizens of the world.
DICK'S Sporting Goods' Community Program proudly supports leagues, teams, athletes and outdoors enthusiasts. We support thousands of youth sports and outdoor recreation organizations in communities surrounding our stores.
Visit our sponsor's site at: http://www.dickssportinggoods.com
---
2022 CYL Shop Weekend - March 11th - Mar 14th
Our partners over at DICK'S Sporting Goods are offering our community some great savings March 11th through March 14th at their Meadow Glenn Mall (3850 Mystic Valley Parkway) location in Medford. If you are in the market for new lacrosse equipment, accessories, or general athletic gear, use the coupon below to save 20% on your entire purchase... 20% OFF!!!
Cleats, mouth guards, tights, goggles, sticks, and just about anything else you might need for the season!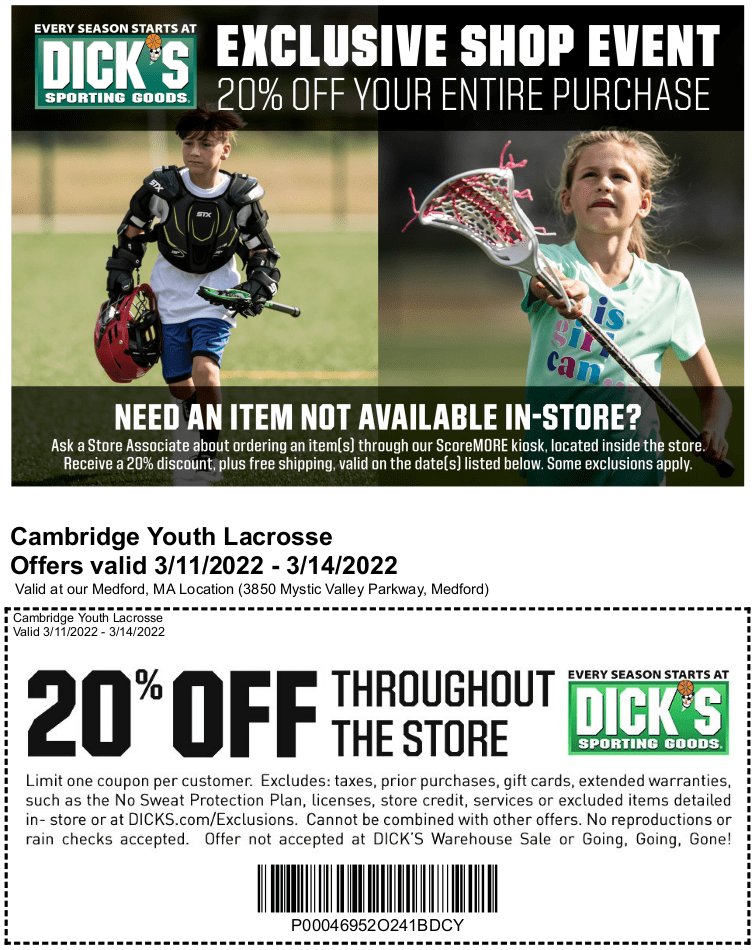 NOTE: ALL boys are required to wear chest protectors and shoulder pads that meet the new NOCSAE ND 200 performance standard. You can learn more here.
---