CYL Fall Lacrosse begins Sunday, September 15th!
CYL Fall Lacrosse Skills Development Program
We hope everyone is enjoying the last weeks of summer! Our once-a-week Fall Lacrosse Skills Development Program begins Sunday, September 15th.
Our fall program emphasizes age-appropriate fundamental lacrosse skill development, structured games, and scrimmages for both boys and girls, ages 6-15. Our objective? To ward off rust, continue to develop skills for the spring, and have fun! If there is enough demand, a number of neighboring towns (e.g., Arlington, Belmont, Charlestown, and Winchester) have expressed interest in setting up one-off competitive "friendlies" as well.
There is NO formal fall registration and sessions are FREE and 100% optional. Drop in / Drop out. Fall sessions should be attended in addition to your fall sports. We are strong believers in multi-sport athletics, so join us whenever you're not on the ice or another field. Fall sessions are scheduled to minimize conflicts with your athlete's traditional fall sports commitments.
The fall is also a great opportunity to introduce new families to the sport. Keep spreading the word and inviting friends and teammates to try lacrosse for the first time. We love seeing new faces. NO EXPERIENCE NECESSARY!
For insurance purposes, ALL players are REQUIRED to have a VALID USLacrosse or MBYLL membership to participate. If you played with us this past spring, you should be good to go!! If you are new to lacrosse or need to renew your membership, please follow the appropriate link below:
NOTE: PROOF OF VALID MEMBERSHIP IS REQUIRED TO PLAY.
PLANNING AHEAD: Spring 2020 Early Registration
Discounted "Early Falcon" registration for the 2020 spring season will begin in October at the end of our Fall Skills program. Early registration helps us to optimize the number of teams we field and coaching resources needed to ensure the most playing time and instruction for our athletes. As with last year, we will be offering girls and boys travel teams at all age-levels, a Future Falcons Co-Ed development program for players 7 and under, and multiple MBYLL Select boys teams for those interested in participating at an even higher level against very competitive teams from across the state. Stay tuned!
Thank You Sponsors!
Our Fall lacrosse program is made possible by generous support from myriad sponsors and individual donors. THANK YOU ALL for helping sustain and grow the lacrosse community in Cambridge!!!
Please reciprocate their support whenever opportunities present themselves!
DICK'S Sporting Goods
Lauren Holleran & Team
Yogman Pediatric Associates
Sarah's Market
Fresh Pond Market
Butcher Box
Joint Ventures
Cambridge Orthodontics
Cambridge Rindge and Latin School
Buckingham Browne & Nichols
Shady Hill School
You can learn more about our great sponsors here:
http://www.cambridgeyouthlacrosse.org/sponsors.html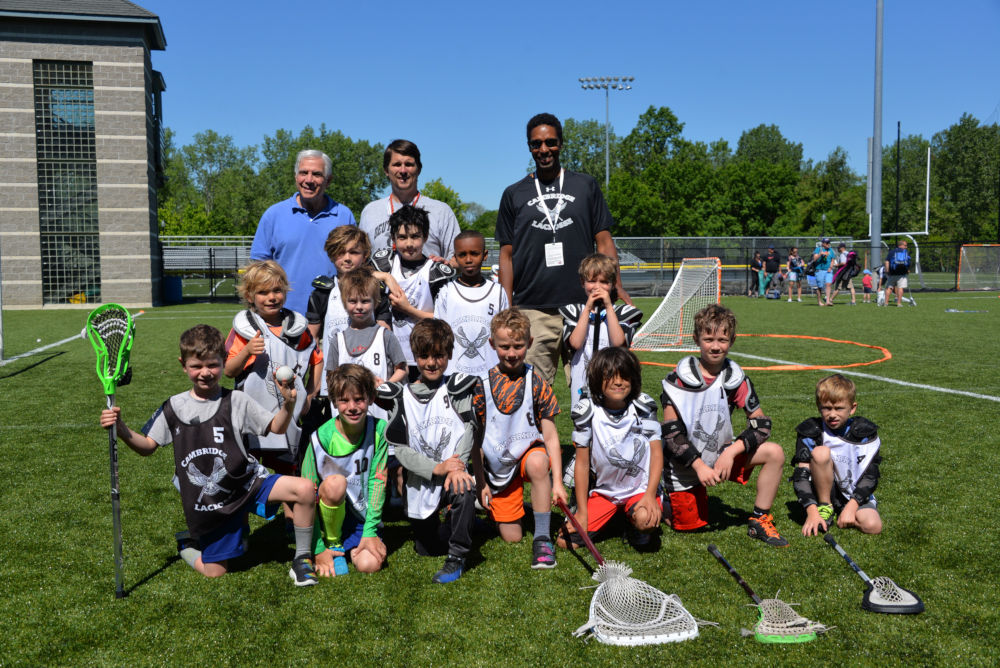 * Dr. Yogman of Yogman Pediatric Associates out supporting his Grade 1/2 team! THANK YOU, Dr. Yogman!!!
Call for Volunteers!
Cambridge Youth Lacrosse is backed by a staff of passionate volunteers. We would love to add your skills to our team! In particular, we need assistance with:
Coaching
Inaugural End-of-Season Banquet / Event Planning
Social Media and Engagement
Photography/Videography
Game Scheduling
League Liaison
Schools Liaison
You can find a list of other ways to help out here:
http://www.cambridgeyouthlacrosse.org/volunteer.html
We appreciate any help your skill set and time can contribute! Drop us a line at volunteer @ cambridgeyouthlacrosse.org if interested and we'll match you with a rewarding opportunity with a time commitment that you are comfortable with.
As always, feel free to reach out to us with questions or comments at: play @ cambridgeyouthlacrosse.org.
- Cambridge Youth Lacrosse