CYL Online Store OPEN and U13 Girls Win Pizza Party!
CYL Online Store OPEN until Feb. 25th
The CYL online merchandise store is OPEN now and closes 11:59PM EST Feb. 25th!
Get your gear today - shorts, socks, t-shirts, hats, hoodies, and more!
https://cambridgelax.itemorder.com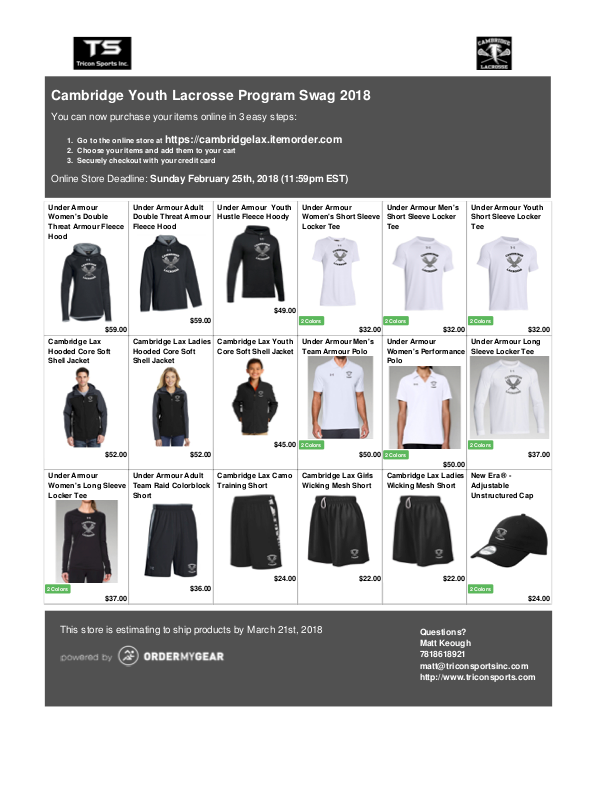 And the Winner is…
It was very close at the deadline, but BIG Congratulations to the Girls U13 (5th and 6th grade) team for leading the way! Coach Lisa Kaneb will be reaching out to you guys in the coming month to see if it works best for everyone as a pre-season, mid-season, or post-season party!
While our "Early Falcon" discount has ended, you can still register for MBYLL/MBGLL teams through February 18th. Registering sooner rather than later, helps us tremendously with resource allocation and scheduling.
Registration for our new "Future Falcons" Co-Ed Development program is OPEN all season long, so register today!
For more information on registration:
http://www.cambridgeyouthlacrosse.org/registration.html
Scholarships Available
We recognize that lacrosse is an expensive sport to play. The goal of CYL is to enable any child wishing to play lacrosse in Cambridge to do so. Through generous donations from our community, we are able to offer some financial assistance to those families most in need.
All scholarship requests and awards are private information and will not be shared with anyone outside of our Scholarship Committee.
For more information on how to apply for a scholarship, please see:
http://www.cambridgeyouthlacrosse.org/financialAid.html
As always, feel free to reach out to us with questions or comments at: play @ cambridgeyouthlacrosse.org.
- Cambridge Youth Lacrosse